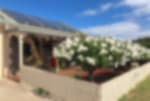 A 50% deposit is required on confirmation of your reservation - NOTE: your credit card will only be debited the 50% deposit when using the on-line 'Book Now' form.
Final payment is debited within 2 weeks of your reservation
If preferred, a direct banking transfer can be arranged
A/C Name: R. Adler BSB: 015566 A/C: 464715186
If your stay is 14 days away (or less) full payment is required
Note that a one-off $65 cleaning fee applies to all stays
The Baronet is thoroughly cleaned between guest stays
REFUNDS are allowed where cancellations are made 14 days or more before reservation date LESS a 4% fee where a credit card has been used for payment (as charged by our gate-way payment provider).
Instructions for entry, using a key-safe, are given to our guests prior to their stay
Before booking please feel free to use the 'contact' tab for queries, requests and guest requirements etc.
Baronet B & B is not suited for 'schoolie' stays, 'stag' nights, 'hens' nights or similar
Pets are generally not allowed (due to large area of carpet) unless agreed to by prior arrangement with your hosts
Baronet B & B is a non-smoking premise
Occupancy is based on a maximum of two people per bedroom, if two people have booked and require both bedrooms, a small charge for extra linen may apply
Make yourself at home and above all, enjoy your stay!